Top 5 Scandals with Ties to Urban Meyer
Top 5 Scandals with Ties to Urban Meyer
  by JDuggernaut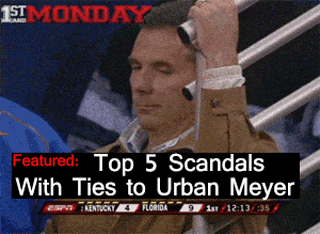 Two things have followed Urban Meyer virtually everywhere he has been: success and scandal. Once again, a player under Meyer's watch or a coach under his employ has been indicated in wrongdoing. This time it's former wide receivers coach Zach Smith, who served as a grad assistant under Meyer at Florida and has been the receivers' coach in Columbus since Meyer took the Buckeye job. What makes this different, though, is that this time Meyer has been placed on leave and alleged to have known about domestic abuse allegations against Smith, who faced no legal or career consequences until he was fired on July 23. The administrative leave is the first real punishment Meyer has faced at either Florida or Ohio State, though this is by no means the first time someone associated with Meyer has been embroiled in controversy. Here's a look at the top five scandals with ties to Urban Meyer.
Number 5 Chris Rainey
Chris Rainey, the brother of He Hate Me, was a running back for Meyer at Florida, playing in Gainesville from 2007 to 2011.  Rainey was a contributor to the 2008 National Championship team, as well as the 2009 team that went 13-1. He had run for over 1,200 yards and scored 9 touchdowns on the ground to go with 198 yards and another touchdown through the air during those two years and figured to feature prominently in 2010. He got out to a slow start in though, running for a mere 16 yards in two games and registering 34 yards and a touchdown receiving. Rainey was arrested before the third game, the SEC opener against Tennessee. He had texted an ex-girlfriend "Time to die bitch" after he left her house in the aftermath of an argument, and she reported him to police. Rainey was indefinitely suspended, missing a total of five games before coming back in time for the Georgia game, a game in which Rainey ran for 84 yards and a touchdown to lead the Gators to a 34-31 victory. Rainey would finish out the season with the Gators, and Meyer would "retire" due to heart problems and a desire to spend time with family, sitting out only a year before taking the Ohio State job in the wake of Jim Tressel's firing in 2011. Rainey wrapped up his Gator career in 2011 after racking up 2,464 yards and 13 touchdowns on the ground, 795 yards and 6 touchdowns on 69 receptions, 689 combined return yards and 2 kickoff return touchdowns, and the school-record for blocked kicks with four. He was drafted in the fifth round of the 2012 NFL Draft by the Pittsburgh Steelers but was released just days after the conclusion of his rookie year for assaulting his girlfriend. He would spend three weeks with the Colts in 2013 without registering a carry or reception. He was signed to the Cardinals' practice squad for nine days in 2014 before going to the CFL, where he has played ever since.3
Number Four Greg Schiano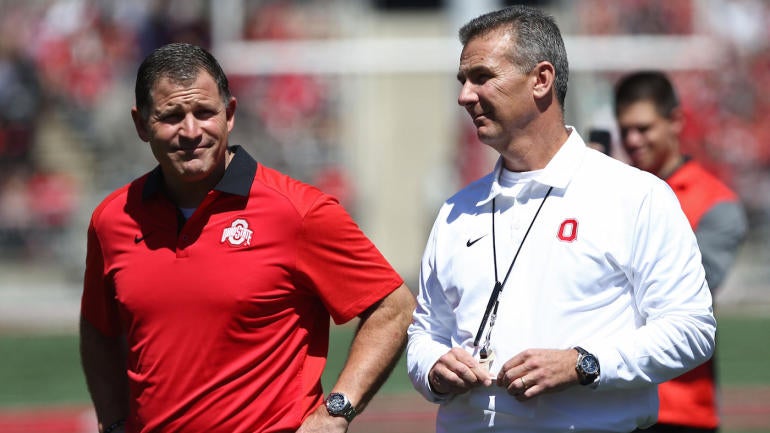 Urban Meyer hired Greg Schiano to be the defensive coordinator and associate head coach of the Buckeyes in 2016. Before the season even started, newly-released court documents revealed that former Penn State assistant coach (and witness of a Jerry Sandusky incident) Mike McQuaery testified in court that former Penn State defensive coordinator Tom Bradley had told McQuaery that Schiano also "saw Jerry (Sandusky) doing something to a boy in the shower" during Schiano's stint at Penn State from 1990-1995. Schiano denied having any knowledge of any wrongdoing while at Penn State, and it slid under the radar until until the most ridiculous coaching search of all time transpired in November and December of 2017. Former Tennessee athletic director John Currie attempted to hire Schiano to be the head coach of the Volunteers. Vol fans weren't having it and organized a movement unlike any coaching hire had ever inspired before it. Many fans were against the hire, with reasons such as his poor conference record at Rutgers, his disastrous stint in Tampa Bay, and his alleged knowledge of abuse by Sandusky providing fans with enough ammo to stage a coup and block the hire. Many pundits and national media personalities derided the Tennessee fanbase, with many claiming that Urban Meyer's vetting of Schiano said enough about Schiano to put any concern at ease. Schiano was not pursued by any other schools, and rumors of Schiano becoming the defensive coordinator of the New England Patriots proved to be for not. Meyer would then bring in former Washington State defensive coordinator Alex Grinch to actually serve as co-defensive coordinator, and Schiano was not promoted to interim coach when was placed on leave. Schiano's knowledge of any wrongdoing has not been corroborated, and Meyer has not been alleged to have known about any Schiano connection, but the fallout of the Tennessee situation was wide-reaching enough to land it on this list.
Number Three Cam Newton 
The butterfly effect resulting from the transfer of Cam Newton may have done more to alter the college football landscape than any move since Alabama hired Nick Saban. Cam Newton was hailed as one of the best dual-threat quarterbacks in the country coming out of Westlake High School in Atlanta in 2007, and he had been committed to Urban Meyer and the defending-champion Gators since before his senior season began. He beat out John Brantley for the QB2 position behind Tim Tebow in his true freshman year. Tebow won the Heisman, so Newton didn't play much, completing five of 10 passes for 40 yards and running for 103 yards and three touchdowns. Newton threw one pas for two yards and ran for 10 yards and a touchdown before hurting his ankle in the 2008 opener against Hawaii and took a medical redshirt for the season. That game would prove to be the last time he saw the field in a Gator uniform, as he would be arrested in November of 2008 on felony charges of burglary, larceny, and obstruction of justice after stealing a University of Florida student's laptop and trying to dispose of the evidence by throwing it out of his dorm room window. He was suspended from the team but had all charges dropped through judicial diversion. He then decided to transfer out of the program, going to Blinn College in Texas and winning a junior college national championship before ending up with the Auburn Tigers in 2010. Newton had a season for the ages in 2010, exploding for 4,369 total yards of offense and 51 total touchdowns en route to a Heisman and an undefeated national championship. Newton was drafted in 2011 as the first pick overall by Carolina. As the Panthers quarterback, racked up a record of 62-45-1 with 25,074 passing yards, 158 passing a touchdowns, 4,320 yards rushing, 54 rushing touchdowns, four playoff appearances, and a Super Bowl appearance and MVP in 2015. Newton's fantastic year at Auburn just so happened to coincide with Meyer's final year at Florida. Had Newton never gotten in trouble and stuck around in Gainesville, it might have been Florida winning the 2010 BCS National Championship, which would have given Urban Meyer his third national championship at Florida in five years with three different starting quarterbacks. It's hard to imagine those old heart issues cropping up if that had been the case, instead of the uninspired efforts of John Brantley. Florida could have been neck and neck with Alabama at that point, as Meyer has been Saban's closest peer since Saban arrived in Tuscaloosa. Ohio State may have fallen into anonymity, opening the Big Ten up to their conference rivals. Auburn may not have enjoyed any successes this decade, South Carolina may have fallen off the face of the planet after Spurrier retired and any number of other programs may have seen their fortunes change, for better or worse.
Number Two Zach Smith
The newest controversy surrounding Urban Meyer could potentially have serious ramifications on his career. Zach Smith is the grandson of the man who gave Meyer his start in college coaching, Earle Bruce. Smith walked on at Bowling Green under Meyer in 2002 and would soon coach for Meyer as a quality control coach and then grad assistant from 2005-2009. Smith would take the wide receivers and special teams coaching job with with former Meyer assistant Doc Holliday at Marshall in 2010 and move on to fill the same role at Temple under another former Meyer assistant Steve Addazio in 2011 before joining Meyer in Columbus to serve as the receivers coach at Ohio State in 2012, a position he held until July. Smith had a documented incident with his wife before the 2009 season when he was arrested on suspicion of aggravated battery against a pregnant Courtney Smith. The couple would split up in June of 2015. Since that time, Smith has been investigated for assault or harassment on multiple occasions and served a restraining order. Meyer claimed not to know about a 2015 incident in which Smith allegedly injured his wife at Big 10 Media Days the day after firing Smith. In the days since, Brett McMurphy has released evidence indicating Meyer and his wife knew about incidents stretching back nearly a decade, yet he still hired and retained Smith for six seasons. Meyer and Smith have insisted they did nothing wrong and have placed blame at the feet of the Ohio State administration. The fallout from this situation is still yet to be determined. Ohio State fans are supportive of Meyer, but he is still currently on administrative leave, with co-offensive coordinator and quarterbacks coach Ryan Day serving as interim head coach. If Meyer were to lose his job, that would be a shot heard across the college football world and could alter the entire landscape of the sport.
 Number One Aaron Hernandez
There's no question what the most infamous scandal with Urban Meyer ties is. There have been plenty of guys commit unsavory or despicable acts under Meyer's watch or after having been associated with him, but to our knowledge, only of them has ever killed anyone. Aaron Hernandez shared a hometown with ESPN, dominating Bristol and the state of Connecticut in high school football with Bristol Central High School. Originally committed to play with his brother at nearby UCONN after the passing of their father in 2006, Hernandez was eventually flipped by Meyer and enrolled at Florida beginning in 2007. He had an immensely successful career at Florida, racking up 111 catches for 1,382 yards and 12 touchdowns in three seasons as a Gator. Florida went 35-6 while the 2009 John Mackey Award winner was a part of the team, winning the SEC and a national championship in 2008. Hernandez draft stock was hurt by rumors of incidents at Florida, including multiple failed drug tests. He wouldn't be drafted until the fourth round of the 2010 NFL Draft by the New England Patriots, who had drafted fellow tight end Rob Gronkowski two rounds earlier. Hernandez teamed up with Gronk to form a lethal tight end duo when both were healthy. Hernandez had 175 catches for 1,956 yards and 18 touchdowns from 2010-2012 with the Pats, even catching a touchdown in the Super Bowl loss to the Giants in 2011.  It all came spiraling down for Hernandez in June of 2013, when he was arrested for the murder of his supposed friend, Odin Lloyd. Hernandez was convicted of the murder of Lloyd in 2015 but acquitted of the 2012 deaths of Daniel de Abreau and Safiro Furtado with the help of attorney Jose Baez, he of Casey Anthony fame, in 2017. Five days after that acquittal, Aaron Hernandez was found dead in his jail cell, having committed suicide. In light of Hernandez's murderous nature, it was only natural that people did some digging into his past, including his time in Gainesville. As a 17 year old freshman, Hernandez assaulted a restaurant employee who escorted him out for not paying for his drinks. He avoided felony charges in the incident through a deferred prosecution agreement. Naturally, he received no punishment of note from Meyer. In September of that year, a man fitting Hernandez's description was said to have shot into a car, injuring two people after an argument involving hernandez and the Pouncey twins. One of the people inside the car claimed former Gator safety Reggie Nelson was with the shooter, and the description he gave of the shooter matched the freshman Hernandez's description. Neither Hernandez nor Nelson was charged or suspended for anything, but it's more than a little suspicious that Hernandez would have a link to a shooting in college. The witness later recanted, but police records show he had once identified  Hernandez as the shooter, not just described someone similar. It's possible that had this case been given more attention, Hernandez may have been identified as a danger to society before anyone had to die.
(Honorable Mention: Ezekiel Elliott's tumultuous 2017, Jeff Demps losing a 2012 Olympic Silver Medal due to Tyson Gay taking PEDs in 2015, Mike Pouncey bullying Jon Martin along with Richie Incognito in 2013, Carlos Hyde being suspended for three games for striking a woman at a bar in 2013, Riley Cooper dropping the "n-bomb" at a Kenny Chesney concert in 2013, Jamar Hornsby being kicked off the team for using a credit card that happened to belong to a dead Florida student who had been a teammate's girlfriend in 2007.)
Follow us on Facebook and Twitter. And check out our free message boards for witty banter with like minded individuals.