By Holden Asworth
That feeling is in the air.
No, not that feeling – that one probably requires a strong antibiotic.  The feeling I'm mentioning is of 40 cars running wide-open around that iconic stadium of a super speedway on the Atlantic side of Florida.  That feeling of those cars playing bumper cars for several hours running close enough to make your rectum pucker.  Yes kids, this is #DaytonaDay (that's a real thing on twitter, if you're so inclined to research).
See, things are different this year.  New sponsors, new formats, new rules, and (for some drivers) new manufacturers.  Long gone are the days of stretches of a race that ran for two hours straight.  Long gone are the days of fixing your broken shit-heap in the garage with the hopes of getting back out there for points.  You wreck and can't fix it?  Your day is over.  You can't get it fixed and back up to speed in five minutes flat?  Later dude.  Missing pieces of sheet metal after some rookie or has-been forgot he had to turn left?  Go pack your bags.  Also new to the series is Monster Energy, and more importantly, the Monster Energy girls.  Long gone are the days of Miss Sprint Cup wearing a freaking fire suit in Victory Lane as "eye candy"  Hello tight fitting outfits void of straps and cotton.  Google can provide you with plenty of proof here.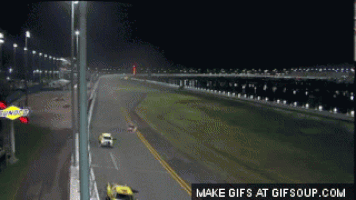 There's nothing better than starting the season off in Daytona Beach.  This sport has come a long way from its days of driving on half-sand, half-pavement.  Now we're looking at aerodynamics packages, judging airflows off of the cars ahead, measuring tire wear and longevity and strategizing more than your Uncle Ralph while playing Monopoly – you know his ass is going to take all of your colored money.  Next thing you know, you end up like this dude flipping his car at the end of turn 4.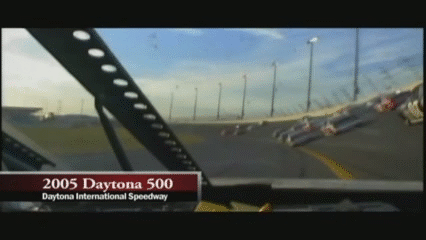 Let's take a look at some favorites to win, shall we?

1.  Brad Keselowski – finished 6th in The Clash, 4th in the first round of the Can-Am Duels, and will start 7th on Sunday.  Kes has had a boatload of speed and led several laps in both of the races mentioned earlier.

2.  Denny Hamlin – Hamlin made a statement by winning the second round of the Can-Am Duels, passing Dale Earnhardt Jr on lap 58.5 out of 60 (considering Dale had led the whole damn thing until then).  It also helps that Hamlin is the defending champ of this race.  He'll start 4th.

3.  Dale Earnhardt Jr – Dale's had a successful Speedweeks up to this point.  He's starting 2nd on Sunday and led most of the 2nd Can-Am Duel race.  He's a savant at these wide-open tracks and knows how to navigate through the air like no other.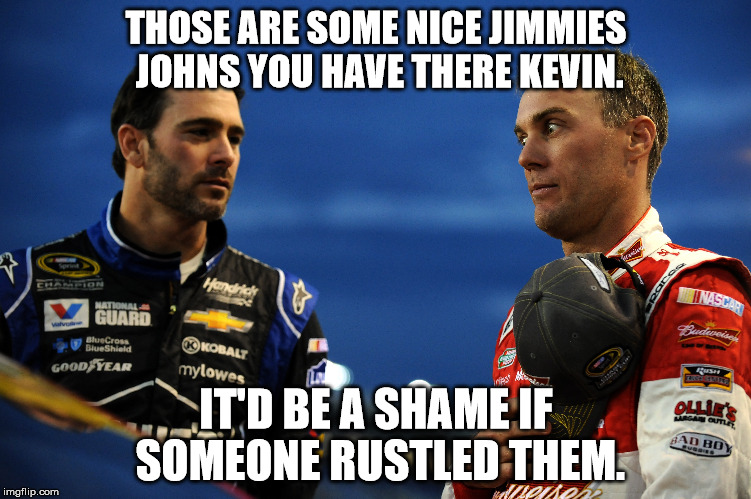 4.  Kevin Harvick – Harvick has his work cut out for him – not due to his starting spot (5th), but due to his team's switch from Chevrolet to Ford.  His speed seems to have increased slightly from last year, and he'll always be a threat while he's on the track.

5.  Chase Elliott – This is a tough one, but the pick is deserving.  He's sitting on the pole for the race and he won the 1st Can-Am Duel race on Thursday.  Amazingly enough, he's got more speed than Dale Earnhardt Jr, and it's hard to not be the fastest dude when you're topping Dale Jr on one of his strongest tracks.
Maybe, Might-Could Win

Clint Bowyer – for those unfamiliar, Bowyer used to race for Michael Waltrip Racing before they folded up shop at the end of 2015.  At the end of that season, Bowyer announced he was going to drive for a small one-car team in 2016 and make the jump to fill Tony Stewart's seat in the 14 car in 2017.  So far, so good – he's starting 6th and started/finished 2nd in the 2nd Can-Am Duel race.  More importantly, he's motivated to make a statement considering the sub-par year he had in 2016.  Look for him to stay up front and finish towards the top.
Click Here for Starting Lineup
Check it out at 2pm on FOX and SiriusXM NASCAR Channel 90