Super Bowl LII Prop Bets
The Super Bowl is upon us.  Can Tom Brady etch his name in stone as the greatest to play the game?  Can the Eagles survive losing the likely MVP in Carson Wentz and ride a backup named NIck Foles to the trophy?  Which color Gatorade will be dumped on the winning coach?
What?  You say that last question is silly?  Well yeah, it is.  But if you knew that Orange was the color 2 of the last 3 times a winning coach has been doused with a sports energy beverage, as well as 4 of the last 6 times, then you know that getting +300 odds on it is a nice bargain (or play the favorite of Lemon Lime at +225).  For non-bettors, that means if you wager $100 on that outcome, and it happens, you get paid $300.  That, ladies and gentlemen, is what we call a prop bet, and with between 400 and 600 of them on the line at this years big game, they are the second most interesting part of this event.  (For those keeping score at home, it goes #1 Commercials, #2 Halftime Show, #3 Prop Bets – POWER GAP OF EPIC PROPORTIONS – everything else,  including football.)
So, let your friends here at FirstAndMonday recap a few of those (strictly for fun) prop bets that might just make up for your inevitable losses in your upcoming March Madness Office Bracket.  Our Picks are in Bold.
Also, if you want a chance at winning $100 by guessing the correct winner and score of the game, just sign up for our free message boards and post your predictions in the pinned thread at the top of the forum. We will Paypal the winner on Monday.
All odds courtesy of Bovada.
Time In Which Pink Will Sing the National Anthem:  Over 2 minutes -200 / Under 2 minutes +150
While the National Anthem is a punchy tune that should come in well under the 2:00 mark, the last three have all gone over, and so have 4 of the last 5.  Pink isn't known for brevity, so while you pay the premium to take the favorite, the Under is a sucker bet.
Will Pink say "Eagles" before during or after she sings the National Anthem: Yes +150 / No -200
Pink – an unabashed Iggles fan – will either A) Follow decorum in this spot and not fangirl/homer out, or B) Stay true to her Philly Roots.  We think she throws a shout out to her squad.
Ummm. I'm singing the national anthem and the EAGLES ARE PLAYING?!?!?! IS THIS FOR REAL?!?!?!THATS WHASSUP!!!!!!!! Shtjtkd widnamc ckamcnsnzncbx!!!!!!!!!!!!!!!! Wooohooooooooooooioooooooooooooooooooooooooiiiiiiooooooooooo

— P!nk (@Pink) January 22, 2018
Also, consider this other prop bet of whether Pink will wear an Eagles shirt or hat during the National Anthem, with odds set at: Yes +170 / No -250.  Clearly, Vegas thinks she stays proper with the No being the favorite in each, but they don't feel as strongly about her not uttering the word "Eagles".  Their lack of confidence bolsters ours.  And if you must, take No -250 on the apparel bet.  Pink's Dad is a Vietnam Veteran – bet her to pay respect to the song, without the display of team pride, but get her shoutout in before or after.
The Coin Toss: Heads -105 / Tails -105
Wait, aren't coin tosses 50/50?  Yep.  And do streaks have memories?  Nope.  Still, Tails has prevailed 53% of the time (27-24), but that's thanks to a recent 4 year in a row streak.  Go with your grade-school Tails Never Fails if you must, but give us Heads this year.
Will Donovan McNabb's vomiting incident from Super Bowl 39 be mentioned during the broadcast: Yes +170 / No – 250
This is where reading qualifiers of these bets pays off.  "From kick off until final whistle, halftime does not count towards wager. Must refer to vomiting or a similar word and say McNabb."  LIke it or not Philly Fan, that is what your team's Super Bowl resume features at the top.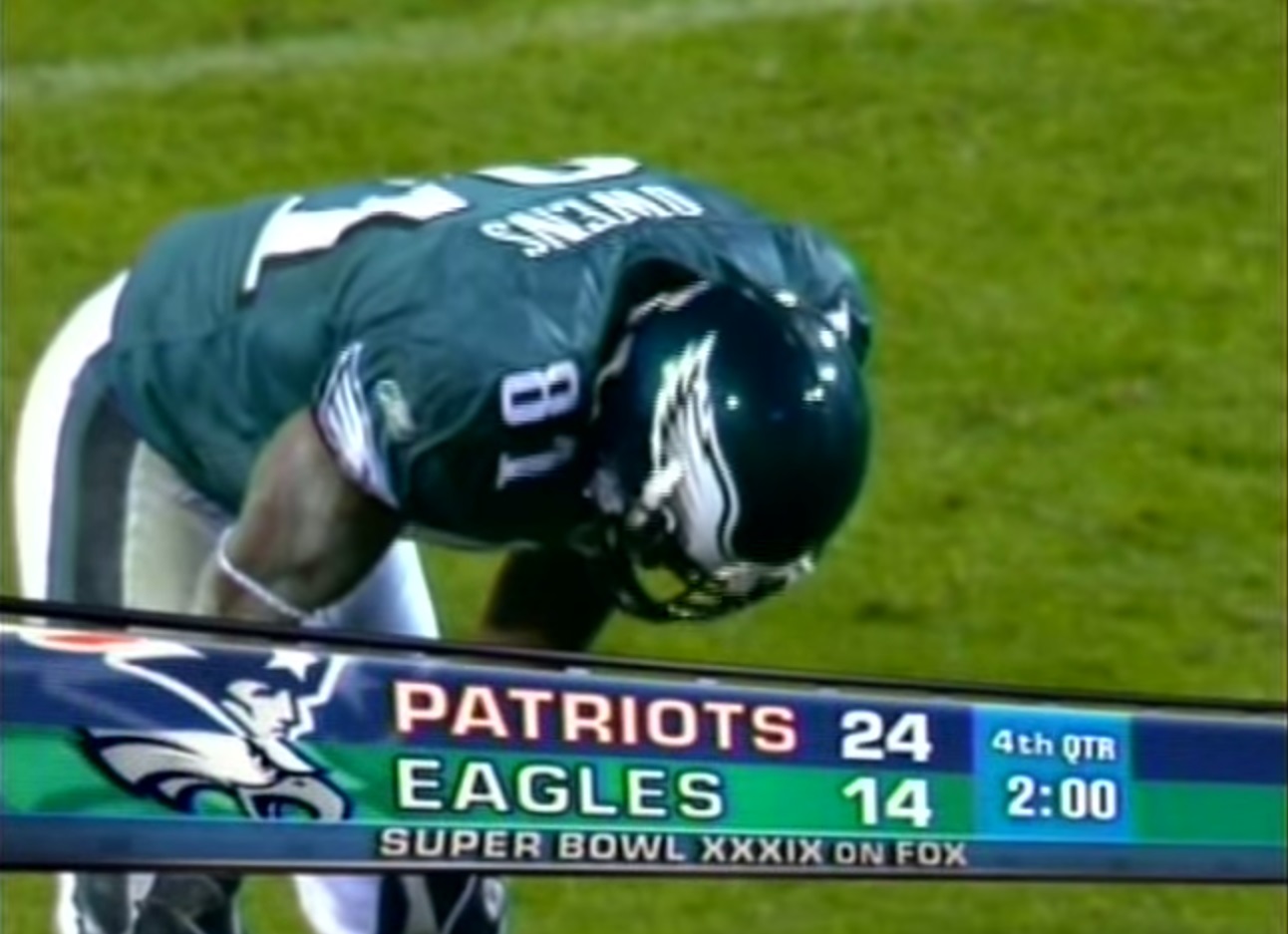 Will Terrell Owens be mentioned during the broadcast: Yes -160 / No +120
And that resume topper is sad, because TO coming back from a broken leg to play that game, and playing a great one, really should get more credit.  Same qualification of kick off until whistle, and in this case, we think you go No, as this seems like a pregame piece.
Will Any Scoring Drive Take Less Time Than the National Anthem: Yes -145 / No +105
Do you expect a big play?  If so, you take the yes here.  The slim payout on No also makes this a tough bet to go with.
Will Nick Foles Have a Higher QB Rating Than Tom Brady: Yes +150 / No -200
Do we think Foles is better?  No.  Do we really think he wins this game?  No.  But QB ratings are formulaic, and it's not uncommon for the better QB to somehow have a lower QB rating than their opponent, especially if one is playing in a system that will give them hefty stats.
Will Any QB Throw for 400 yards or more: Yes +300 / No -500
If you answered those questions about Foles differently than we did, the Yes seems tempting, but realistically, neither team is built to roll up 400 yards passing, or more importantly, to give up that many.  Huge risk, but probably one of the safest plays on this board.
Will Any Touchdown Be Overturned by Replay: Yes +150 / No -200
Replay rears its ugly head.  Gotta think it's bound to happen, and probably in the Pats favor (Steeler Fan just threw his Bud Light in disgust).
MVP Odds:  Tom Brady -110, Nick Foles +325, Dion Lewis +1800, LeGarrete Blount +3300
Captain Tom is the clear favorite, and you shouldn't bet against him.  So why discuss this one?  Simple, if you think the Eagles win, two possibilities stand out – Foles playing superb, making the +325 a nice payday, or the media falling for a good game by former Patriot Blount and handing him the honors (and making for one helluva a payday).  For our money, Lewis is a steal at +1800, as he will get touches in the return game and on offense.  (Ed. Note: Bullshit, we all know the author hedged and also bet Brady – you should too.  Hell bet all four, but bet against Brady at your own peril.)