Sunday Funday Flicks – V For Vendetta
Sunday Funday Flicks – V For Vendetta

By MotorBoater
This is for those lazy Sunday' where you don't want to leave the couch and just sit and watch senseless crap.  It might be to help nurse a hangover or you might finally have a few hours free from the wife and kids and just want to relax. I'm hear to help you out with a movie suggestion.
These recommendations aren't for your movie critics, your Hollywood elitist or "critico cinematografico espertos". The movies I'll be recommending are mostly senseless, action-packed, your stomach hurts from laughing garbage normal folks like to enjoy. Not all of it is mindless garbage though, I may recommend some academy award winners, a love story or two and even a horror flick, but the majority of them are what probably made Robert Ebert's jaw drop in disgust.
Warning, the "Fun Facts" may contain spoilers.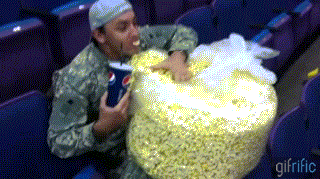 "We're oft to blame, and this is too much proved, that with devotion's visage and pious action we do sugar on the devil himself."
V for Vendetta was released in 2005. It stars Natalie Portman, Hugo Weaving and Stephen Fry. It was directed by James McTeigue. In a future British tyranny, a shadowy freedom fighter, known only by the alias of "V", plots to overthrow it with the help of a young woman. With everything that is going on, not only in the United States, but especially in the U.K. and across Europe, I thought this movie was especially important for the current events.
It's a very well done movie and the plot is carried out well, it does seem to get a little long, 135 minutes, but the ending is spectacular and will keep you on the edge of your seat.
Fun Facts:
The domino scene, where V tips over black and red dominoes to form a giant letter V, involved 22,000 dominoes. It took 4 professional domino assemblers 200 hours to set it up.
The cast and crew were only allowed to shoot near the British Parliament and the Clock Tower from midnight to 4:30 am, and they could only stop traffic for four minutes at a time.
On a clock that has an hour hand and a minute hand, the time 11:05 makes a V. These two numbers, 11 and 5, where 11 is November, and 5 is the day of November, spell out: The fifth of November. "Remember, remember the 5th of November."
Natalie Portman looked forward to shaving her head bald, saying she'd wanted to do that for a long time.
Watch for the article next Sunday to see what's next