Sunday Funday Flicks – Independence Day
Sunday Funday Flicks
By MotorBoater
This is for those lazy Sunday' where you don't want to leave the couch and just sit and watch senseless crap.  It might be to help nurse a hangover or you might finally have a few hours free from the wife and kids and just want to relax. I'm hear to help you out with a movie suggestion.
These recommendations aren't for your movie critics, your Hollywood elitist or "critico cinematografico espertos". The movies I'll be recommending are mostly senseless, action-packed, your stomach hurts from laughing garbage normal folks like to enjoy. Not all of it is mindless garbage though, I may recommend some academy award winners, a love story or two and even a horror flick, but the majority of them are what probably made Robert Ebert's jaw drop in disgust.
Warning, the "Fun Facts" may contain spoilers.
"If I had known I was gonna meet the president, I would've worn a tie. I mean, look at me. I look like a schlemiel."
Independence Day was released July 3, 1996.  4th of July weekend. Starring Will Smith, Bill Pullman and Jeff Goldblum and directed by Roland Emmerich who also directed The Day After Tomorrow.
The aliens are coming and their goal is to invade and destroy Earth. Fighting superior technology, mankind's best weapon is the will to survive. Can they do it or will they fail and it will be the end of the world as we know it?
Besides having probably the most badass movie president of all-time in President Whitmore, when it appears that the world is at against all odds, the one, most likely hero emerges, Cousin Eddie?
Watch the greatest Presidential speech of all time here.
Fun Facts (may contain spoilers):
According to producer/co-writer Dean Devlin, the U.S. military had agreed to support the film by allowing the crew to film at military bases, consulting the actors who have military roles, etc. However, after learning of the Area 51 references in the script, they withdrew their support.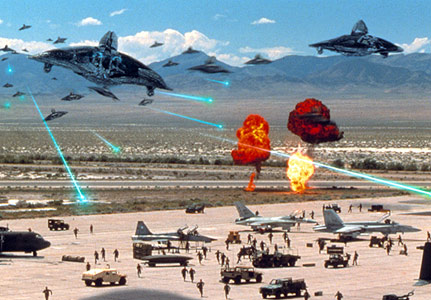 The scene in which Will Smith drags the unconscious alien across the desert was filmed on the salt flats near Great Salt Lake in Utah. Smith's line, "And what the hell is that *smell*?" was unscripted. Great Salt Lake is home to tiny crustaceans called brine shrimp. When they die, the bodies sink to the bottom of the lake (which isn't very deep) and decompose. When the wind kicks up just right, the bottom mud is disturbed and the smell of millions of decaying brine shrimp can be very very bad. Apparently, nobody warned Will.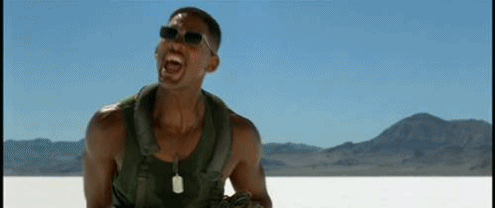 The main helicopter used during the "Welcome Wagon" operation was a Sikorsky S-64 Skycrane which was outfitted with an array of flashing lights. In the DVD commentary, producer Dean Devlin said that when they first test-flew the helicopter with the lights on, over 150 calls were received in Orange County from callers who spotted the helicopter and, unsure of what it was, reported it as a "U.F.O. sighting".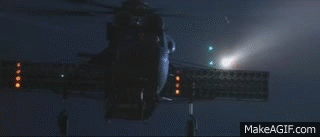 Jeff Goldblum uses one of his lines from Jurassic Park (1993) in this film: "Must go faster, must go faster!", and is delivered with the same intensity.
President Whitmore was originally intended to be a Richard Nixon-like figure. The role was originally written for Kevin Spacey, Dean Devlin's friend from high school. An executive at Fox refused to cast Spacey, insisting he didn't have the potential to be a big star.
I give this movie 5 out of 5 YEETs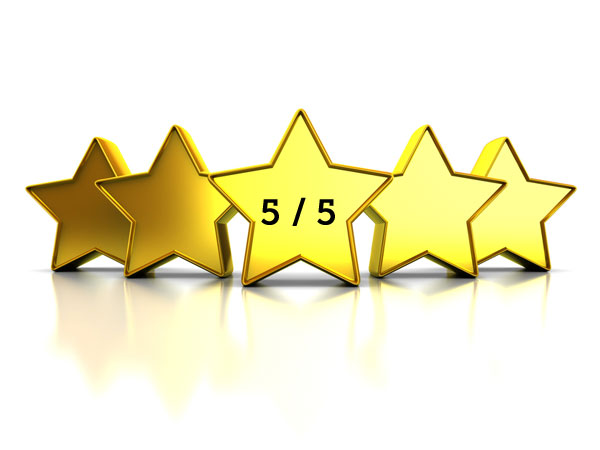 Watch for the article next Sunday to see what's next