Stanley Cups Finals Preview
Offense
Despite being the lowest scoring team to get into the playoffs, the LA Kings are cruising offensively to the tune of 3.48 goals per game in postseason play. That ranks them first among all sixteen playoff teams. The Rangers, meanwhile, have struggled mightily on offense, averaging just 2.70 goals per game which leaves them right in the middle of the pack in eighth.
The Kings boast a huge advantage up the middle of the ice with Kopitar, Carter, Stoll, and Richards anchoring their top four lines respectively. They are all strong in their own zone, and seemingly unbeatable in the faceoff circle. There weren't many, if any, teams in the playoffs this year that matched the Kings depth at center. The Rangers are no exception. They will trot out a good, but not great, group of Stepan, Richards, Brassard, and Moore. If you go player by player, there is not one center from the Rangers that should be picked over the man lining up across from him on the Kings.
On the outside, the Kings don't have anyone as skilled as Nash or St. Louis, however the problem for the Rangers is that neither of their superstars are playing like superstars. You could easily argue that the less talented Kings wingers have played better than the Rangers to this point, and have showcased far more depth. Marian Gaborik leads all NHL scorers with twelve playoff goals, and he will be motivated playing his former team that shipped him out in a trade in 2012. Los Angeles' wingers are outscoring New York's wingers ninety points to seventy points, and fifty-six to forty-three from their top two lines.
The Rangers offense will need to get going in this series if they are going to have a chance to hoist the cup. LA has more depth, more skill up the middle and has gotten more production all postseason long.
Advantage: Kings.
Defense
Drew Doughty is without question the best player on either defense, and is arguably the best player in this series regardless of position. His leadership and play throughout the postseason has him as the current favorite for the Conn Smythe. Fortunately for the Rangers, they have Ryan McDonagh, a budding superstar and eerily similar player to Doughty. He got off to a slow start this postseason, but really turned on his play in the second round and has continued to perform at a high level since then. He has an opportunity to put himself in the conversation with Doughty as an elite defenseman, with a strong series against the Kings.
Behind the two stars, LA and NY are both strong and deep, which is why they finished first and fourth in the NHL in goals against in the regular season respectively. They have each continued their strong defensive play in the playoffs. New York's Dan Girardi and Marc Staal are both stay-at-home defenseman who compare nicely to Regehr and Mitchell from LA. The thing that sets the two groups apart is their ability to generate offense. The Kings have three players in Doughty, Jake Muzzin, and Slava Voynov who are all very comfortable joining the rush and have the ability to create offense. The Rangers don't have any players outside of McDonagh that have scoring abilities.
Advantage: Kings.
Goaltending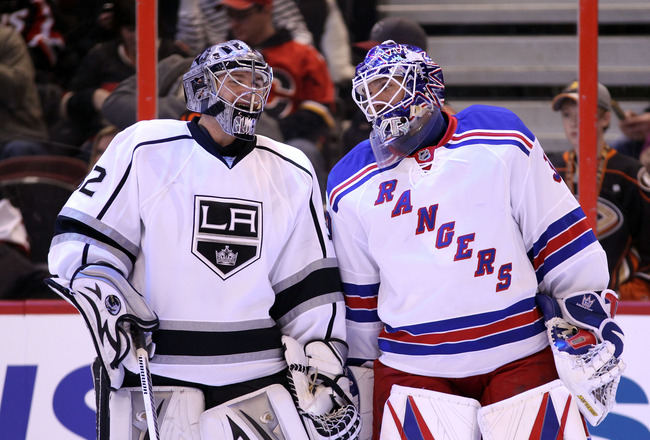 Henrik Lundqvist has been absolutely lights out all postseason, and is the reason the Rangers are here today. He has singlehandedly stolen a few games. He is currently tenth all-time in playoff goals against average and second all-time in playoff save percentage. He also made NHL history, winning five consecutive game sevens, and club history when he became the Rangers winningest goalie ever in March. Specifically this postseason, he has the best save percentage among goalies that started more than five games, and is second in goals against. He has the ability to take over the series, and is the Rangers best hope to win. They don't call him 'King Henrik' in New York for nothing.
Jonathan Quick already has one Stanley Cup ring on his finger, and a Conn Smythe trophy to boot. However, he has not been at his best this postseason. He has displayed his greatness during a few specific games, but has not had the level of consistency that fans have come to expect out of him. He will need to elevate his play in the Finals, which I expect him to do. He has the composure, the ability, and the track record behind him.
Quick's history is not enough to ignore this postseason, and give him the advantage over Lundqvist though. Lundqvist has simply been too great.
Advantage: Rangers.
Coaching
Darryl Sutter coached his current Kings team to a Stanley Cup Championship just two years ago. He has over five hundred career wins, and has proven time and time again that he knows just the right moves to make and buttons to push to get his guys going.
Alain Vigneault has had a similarly successful career with over four hundred fifty wins, and quite a bit of playoff success. He led the Rangers to an (obviously) very successful first year, and was coaching in the Stanley Cup just three years ago. While the Stanley Cup Finals appearance is something to be proud of, it's also a reminder of his very recent playoff collapses that resulted in his firing as the head coach of the Vancouver Canucks.
There is no way justify giving the Rangers the coaching advantage when you consider that Sutter has been more successful in his career as a whole, and has a Cup with the team he is coaching in the Finals.
Advantage: Kings.
The Rangers Win If…
…Lundqvist is able to steal a game early or keep them in games late. If the Kings come into the series tired and sluggish off of their three consecutive seven game series', and allow Lundqvist to keep them off the board, it will allow the Rangers to stay in games and give themselves a chance late to win with their speed.
The Kings Win If…

…they keep doing what they've been doing all postseason long. Be the better, more physical team. Come out fast and put pressure on the goalie early. The Kings have dominated faceoffs and possession all postseason long. They wear their opposition down, and punish them with physicality. They crowd the front of the net, and let their offensively gifted defenseman throw shots on net to be put home on rebounds.
Prediction
Kings in six games. Doughty wins the Conn Smythe.