SEC Speed Report 2017 Week 6
SEC Speed Report 2017 Week 6

By CreativeCrete
Another weekend in the books and it has become clearer than ever that there are three teams in the SEC that are above the rest. It's fine because it will all shake out at the end of the season. Auburn has the worst of it having to play both Georgia and Alabama all in the last three weeks of the schedule. There is a real chance that two of the three make the playoffs but that's a long way away and it mostly depends on what the other teams around the country are doing by then. There were some watchable games this weekend and we at FAM are thankful so let's get to the more entertaining ones.
It was just a very short time ago when the LSU/Florida game was one of the biggest games of the SEC season. There were NFL players all over the field and although the games tended to be low scoring affairs, they were quality football. So far this season both the Gators and Tiygahs have been pretty disappointed in how things are going. There were rumors that headh coach Ed Orgeron and offensive coordinator Matt Canada had to be separated by players this week before an all out fight happened. However, LSU was able to hold off the Gators by winning on a botched extra point. The holder dropped the ball about the same time the kicker's leg was in motion and the kick looked like a botched circumcision…it was awful. LSU moves to 4-2 on the season and 1-1 in the SEC while Florida is 3-2 on the season but 3-1 in conference. All signs still point to Jax for the SECE crown.
Alabama traveled to College Station to take on an up and down Texas A&M team. This FAM writer thought the game would be a higher scoring affair. TAMU isn't really known for defense and Alabama's offense has been rolling. That was not to be the case. TAMU played great defense all night and the score stayed under the total of 55.5. TAMU blocked a punt to make the score 24-12 in the 4th quarter and Kyle Field was a mad house. TAMU used a handful of big plays in the passing game to get the ball down field since the running game was nonexistent. I am sure Coach Nick Saban will be furious with his players about the way in which his team played but sometimes the other team just makes plays, Nick.
Ole Miss went to Auburn to try and get back in the groove after getting dismantled by Alabama the week prior but it was not to be. They did manage to move the ball relatively well between the 20's but the Auburn defense was stingy in the red zone though Ole Miss did manage to score more than any other team Auburn has faced this year. It's going to be a long year in Oxford and it is pretty clear that interim head coach Matt Luke is not the answer though he took over a tough situation. Auburn, on the other hand, looks like they have figured out how to effectively use quarterback Jarrett Stidham. Auburn begins a three game road trip next week and if they come out 3-0 it will come down to the Iron Bowl for the West.
Quick Hitters. Georgia played defense and ran the ball at will to beat Vandy 45-14. This is a formula that Coach Smart loves and Georgia is executing to perfection so far. South Carolina used a couple of defensive scores to pull ahead for good in the 3rd quarter against Arkansas. The Arkansas faithful is calling for Coach Bielema's head (and I don't blame them) while the Gamecocks are quietly loving Coach Boom's turnaround. Kentucky took an early lead against the Mizzou Tigers and never gave it up. Mizzou was able to tie it up late in the 3rd 27-27 and again early in the 4th 34-34 but Kentucky was able to hold on for the W. Mizzou is 1-4 on the season and things will not get better. Kentucky's only loss was a heart breaker to Florida and only needs one more win to get to bowl eligibility and we aren't even talking about basketball.
What To Watch For, Week 7

Auburn heads to Baton Rouge for the first of three straight road games to face the LSU Tigers. If Coach O wants to salvage the season and calm the fans he will need to win at least one of his big remaining games against the teams from the state of Alabama, otherwise LSU could finish 4th or 5th in the West. Luckily for LSU, Ole Miss is just terrible and has last place locked up. Auburn just wants to get this win and move on. Very much an "NCAA Basketball tournament mentality" when you are talking about three straight road games.
Texas A&M heads to Gainesville to try and get back on the winning side. The Gators still have their sites set on getting back to Atlanta but a loss here would pretty much ensure Georgia wins the east although Florida would still have an outside shot. Georgia still has to face Auburn later this year so the largest outdoor cocktail party is still the key game but you don't want to have to rely on other teams to do your dirty work.
Tennessee hosts South Carolina in what could end up being Coach Butch's last game in Knoxville if he takes the L. Look at this scenario, UT loses to South Carolina but Jones is not fired. The following week Tennessee ends the current 10 game winning streak and beats the Tide. How could the administration at Tennessee fire Butch Jones if they end the streak? They'd be stuck with him for at least another year. Meanwhile, if South Carolina can pull out the victory they are all but guaranteed a bowl birth which is something the Gamecock faithful want to achieve and is considered a great season in Columbia.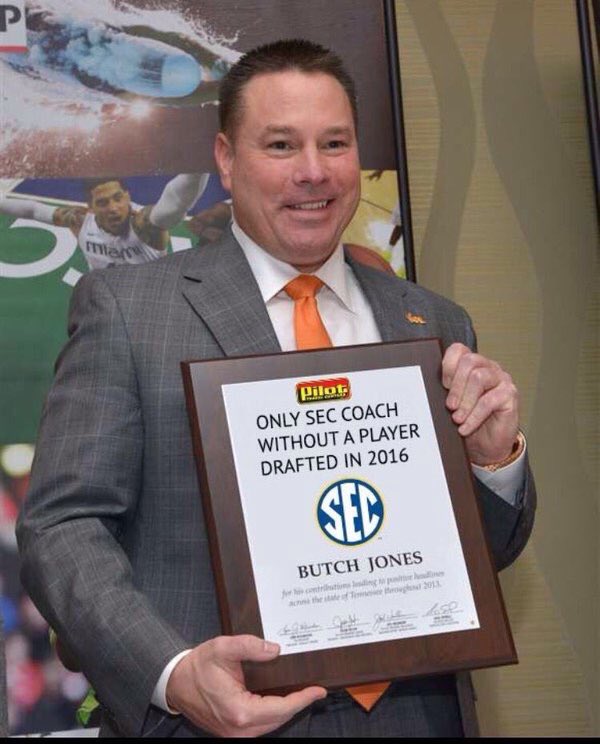 The rest. Alabama hosts the reeling Hogs of Arkansas. Saban will have plenty of material to get his boys ready coming off the mediocre performance against TAMU. Arkansas looks to have zero confidence and that's not the recipe for a win against Alabama in recent seasons. Mississippi State hosts BYU in an out of conference game. State is coming off a bye week and BYU is not very good. Look for the Bulldogs to win by double digits. Vandy and Ole Miss square off in Oxford. I don't know if there will be a single person watching this game outside of the player's parents. Finally, the Bulldogs of Athens, GA invite the Missouri Tigers over for dinner and Missouri is on the menu.
Hail Mary Week 6 Power Rankings (huge shakeup)
Alabama
Georgia
Auburn (After the top three there is a significant power gap within the conference)
Kentucky
Mississippi State
South Carolina
LSU
Florida
Texas A&M
Tennessee
Vandy
Arkansas
Ole Miss
Missouri
And check out our free message boards that are infested with CFB fans.