Pre-Spring Top Ten Returning OLB in College Football for 2017
Troy Dye — Oregon Ducks — As athletic a linebacker as you'll find on this list, and he's only a sophomore. He's also got great size at 6-4 and over 225 pounds. He led the ducks in tackles (91), TFL (13.0), and sacks (6.5), while also notching a pick, pass break-up, and blocked kick. The Ducks must improve as a defense, and the NorCal native out of Norco is a tremendous building block on the second level. Look for a monstrous season for the 2016 Freshman All-FAMerican.
Defensive stud…Troy Dye. #GoDucks pic.twitter.com/IgPwwUOnl1

— GoDucks (@GoDucks) September 4, 2016
Ulysees Gilbert — Akron Zips — The MAC's leading tackler with 122, a he also tallied team-highs with 11.5 TFL, 4.0 sacks, eight hurries, and two forced fumbles. The senior out of Ocala, Florida isn't huge at 6-1 225, but he's quick in pursuit and hits like a ton of bricks. He's a potential MAC Defensive Player of the Year, and star with All-American potential, just on a bad team.
Shaquem Griffin — UCF Knights — Easily one of the coolest stories in college football: he's an under-sized (6-1 215), under-recruited, uber-productive star at a Group of Five school, who excels alongside his brother… and is missing one hand. Handicapped, literally, he finished with 20.0 tackles for loss, second best among returning linebackers, 11.5 of which were sacks. In all he amassed 92 total tackles, seven break-ups, two forced fumbles, two fumble recoveries, and an interception. Yep, an FBS quarterback got pilfered by a one handed defender (Greg Ward, sorry). That said, he's freaking awesome, and one of several special defenders for UCF (including his twin).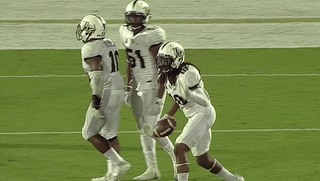 Tremaine Edmunds — Virginia Tech Hokies — The standout and massive edge presence recorded 106 stops on the year, 18.5 for loss, with 56 solo tackles. He was a forced against the pass as well, with 4.5 sacks, one interception and 3 pass deflections, and primed for another huge season as the team leader. NFL scouts are watching the 6-5 235-pounder and he could parlay a huge season into a huge boost for his draft stock.
Malik Jefferson — Texas Longhorns — It seems like he's the elder statesman in Austin, and has been there for years, and he's seen three coaches maybe. Or maybe Texas cannot get their shit straight so a sophomore seems like junior is a graduate student. Either way, he's part of a solid and athletic line-backing corps which should feed behind Poona Ford and a talented Horn line. Look for him to improve on his 62 stops from last season while notching more sacks than his 5.5 in a Tom Herman defensive philosophy that attacks with linebackers. Likely gone after feasting in the new scheme.
Arden Key — LSU Tigers — Talk about a player about to feast in a scheme, Key is primed for a performance of ridiculous fashion in Dave Aranda's attacking 3-4 scheme (if he can return from a hiatus). At 6-6 and 240-pounds he's long, lean and athletic, giving tackles fits with his speed and wiry strength. He uses his arms to keep blockers off balance while accelerating past them to the quarterback. Aranda has made average Joe's seems exceptional, and Key is an upper-echelon NFL talent. This is going to be sweet to watch behind a formidable Tiger line.
Ogbonnia Okoronkwo — Oklahoma Sooners — Much like Alabama always has linemen a that's great with a future NFL player, the Sooners are seemingly the same way at linebacker. Every few seasons a superstar emerges, dominates, and leaves; the Sooners are never left wanting a big-time performer. Last season the Houston prep product erupted in his first as starter, totaling 71 tackles, 12.0 TFL, 9.0 of which were sacks. He also added more mayhem with three pass deflections, seven hurries and two forced fumbles. Expect more production for the senior and running-mate Emmanuel Beal.
Michael Pinckney — Miami Hurricanes — The sophomore is one of two uber-talented second year backers for the U, and is primed for an All-American type season thanks to some experience along the line, and for himself more importantly. The raw ability, football sense, and willingness to mike it up are there. Now give him some immersion in the system and… boom. Hurricanes hitting HARD once again. Pinckney should push 85 tackles, 15 TFL, 5 sacks and 5 total pass break-ups in a havoc filled 2017.
Tegray Scales — Indiana Hoosiers — Plain and simple, he was the best outside linebacker in the Big Ten last season, and the best in the country at making things go down, literally, in the backfield. He amassed 23.5 tackles for loss on the season from the weakside, and in all made a FBS best 93 solo stops, 126 in all. He rebounded from a down sophomore season in huge fashion, and will likely end his career in absurd fashion. Buying high and selling higher for this super football-savvy stud at linebacker.
Matthew Thomas — Florida State Seminoles — The speedy Miami native broke-out in his first season as starter on the outside, cleaning up against the run with a team high in tackles (77), plus 10 non-sack TFL and a forced fumble. With a beast of a nose in Derrick Nnadi plus two talented ends in front of him, plus some talented and athletic linebackers around him, look for him to have another superb season despite the graduation of Demarcus Walker. If he can avoid more targeting penalties…
Snubs — Jerome Baker, Ohio State Buckeyes; Asantay Brown, Western Michigan Broncos; Rodney Butler, New Mexico State Aggies; Koron Crump, Arizona State University; Ukeme Eligwe, Georgia Southern Eagles; Emmanuel Ellerbee, Rice Owls; Porter Gustin, USC Trojans; Peter Kalambayi, Stanford Cardinals; Treyvon Williams, FIU Panthers; Logan Wilson, Wyoming Cowboys
Quarterbacks | Running Backs | Wide Receivers | Tight Ends | Offensive Tackles | Offensive Guards | Offensive Centers | Defensive Tackles | Defensive Ends | Outside Linebacker | Inside Linebacker