Dunkirk
By Florian Sohnke
Christopher Nolan Hits Mark with Historical Re-construction of Dunkirk Rescue
When Hollywood is inspired to add to its tally in the war genre, it gleefully accepts the challenge of re-creating historic events from a decidedly Amerocentric view, but often fails to deliver accuracy in favor of entertaining audiences with spectacularly macabre scenes, death and devastation.   In his unconventional Dunkirk, director Christopher Nolan achieves with simplicity a lively and engrossing retelling of the events revolving around the extraction of British and French troops from the narrow beaches of Dunkerque, France, over a ten-day period in 1940.
With a score composed by Hans Zimmer to compliment the gripping story and a cast featuring veteran actors Cillian Murphy, Mark Rylance, Tom Hardy, and Kenneth Branagh, Nolan's treatment of the evacuation of 340,000 is selfishly British, but nonetheless one which achieves, educates, and entertains in both a deeply personal and monumental fashion.  To compliment the cast and score, Nolan's exceptional creation presents striking images of RAF Spitfires battling the Luftwaffe in the skies over Dunkerque's beaches while attempting to provide assistance to beleaguered troops below, depicts soldiers queued on the east mole forced awaiting rescue to confront their worst fears over Stuka attacks, captures men gazing across Dunkerque's foamed shores at Dover's cliffs agonizing over imprisonment at the hands of the Nazis with chilling silence, and the desperate journey of a British citizen setting aside his personal safety to perform a noble task with cinematic brilliance.  That Nolan accomplishes as much while exposing audiences to a very small batch of cast members, cleverly refusing to fully develop characters, and limiting the script is a tack which intensifies the viewers' insight into the soldiers' plight.
Instead of offering audiences a broad vista into the evacuation, Nolan's departure from Hollywood's stale handling of the horrors of war prefers to capture the chaotic events through the eyes of a Royal Air Force (RAF) pilot portrayed by Hardy over the course of an hour; the outlook of a group of panic-stricken soldiers over the period of a week; and the one day voyage of an ordinary British citizen, Rylance, at the helm of a pleasure boat, energized by the plight of his fellow countrymen 20 miles away from the British shores.  Although small in scale, Nolan's perspective through the prism of few represents the frightened experience of hundreds of thousands trapped on French beaches as swarms of German troops pressed forward on the Dunkirk enclave.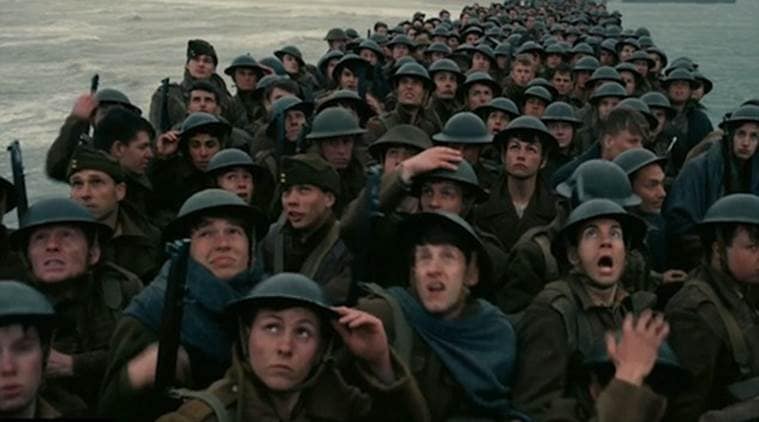 But what makes Nolan's production sit up and work historically and artistically is the fact he refuses to treat his audience as dense.  Unlike a mass of film directors who tend to overindulge audiences with unneeded details, Nolan leaves moviegoers to their own intellectual devices in a subplot involving Murphy's nameless character.  Plucked from the aft of a sunken ship by Rylance's character, a traumatized Murphy boards the ship and, acting erratically, exhibits all the qualities of an emotionally-broken man.  Nolan's gift to the audience rests in a slightly confusing flashback in which Murphy's part is depicted earlier as the embodiment of sober leadership of men directing a nighttime escape in rowboats in the dark of night under terrifying circumstances.  Instead of creating a grotesque scene depicting body parts scattered over the surface of the Channel, Nolan favored viewers to speculate on the harrowing events which led to his state.  Furthermore, Nolan rejects the temptation to introduce either political or social statements on the issue of post-traumatic stress disorder (PTSD).
A film with few flaws, particularly its portrayal of a rescue ship sent to the bottom by a U-boat claiming hundreds of souls when historical record shows none were in the area during the evacuation and a peculiar approach of British warships' anti-aircraft guns hushed when hordes of Luftwaffe aircraft lurked above, is curious, but Dunkirk still triumphs.
While Dunkirk thankfully avoids the visual horrors of war and deftly rejects surrealism found in similar treatments of historical events, Nolan's feat is a near impeccable re-construction of a significant affair deserving of a modern interpretation.  Where Nolan succeeds brilliantly is subtly seizing an often overlooked crisis to give audiences a grand view of the fear, panic which turned retreat and near defeat into Great Britain's first great victory during the Second World War.