FAM & Furious: Bowl Season, 2016 Hawai'i Bowl
HAWAI'I BOWL (12/24/2016)
Middle Tennessee Blue Raiders (8-4) vs Hawai'i Rainbow Warriors (6-7) — MTSU -5.5
This line is interesting, as it's indicative of uncertainty as to whether MTSU's star quarterback Brent Stockstill plays after missing a good part of the season with a broken collarbone. When he's healthy, the MTSU offense is a two-dimentional dynamo with Stockstill-to- Richie James a lethal pass combo and I'Tavius Mathers as a phenomenal dual-threat back (2000 yards from scrimmage) behind a solid line. When he's not healthy they are unable to pass, in fact abandoning the passing game in their final two season wins.
Alex Dale (@DarkSkipBayless) caught up with I'Tavius Mathers (@I_Train5) after practice to talk about Hawaii! 👇 #BlueRaiders pic.twitter.com/GSqc8MW8PU

— MT Athletics (@MTAthletics) December 21, 2016
It's probably best they tread lightly when passing if John Urzua starts in lieu of Stockstill, as Hawaii has a solid pass rush with Jahlani Tavai from his linebacker spot and the emerging Meffy Koloamatangi from the edge. Their secondary features two solid players in senior CB Jalen Rogers and junior safety Trayvon Henderson, but it's not overly hawkish in terms of making interceptions. If Stockstill plays, we'd still try and ease him in.  Yet still let him take the open shots, because although the Rainbow Warriors only allowed 211 passing yards per game, that number is skewed by the fact teams ran wild over the Hawaii defense. Opponents rushed for 243.8 yards per game on them, amassing 30 scores, and did so on 597 rushes (third most against nationally). Why throw it when you can run it? Mathers, and the rest of the Blue Raiders, can run it behind a very experienced line. In their final game, almost exclusively running the ball, Mathers and Richie James (at wildcat QB), rushed for 200 yards apiece.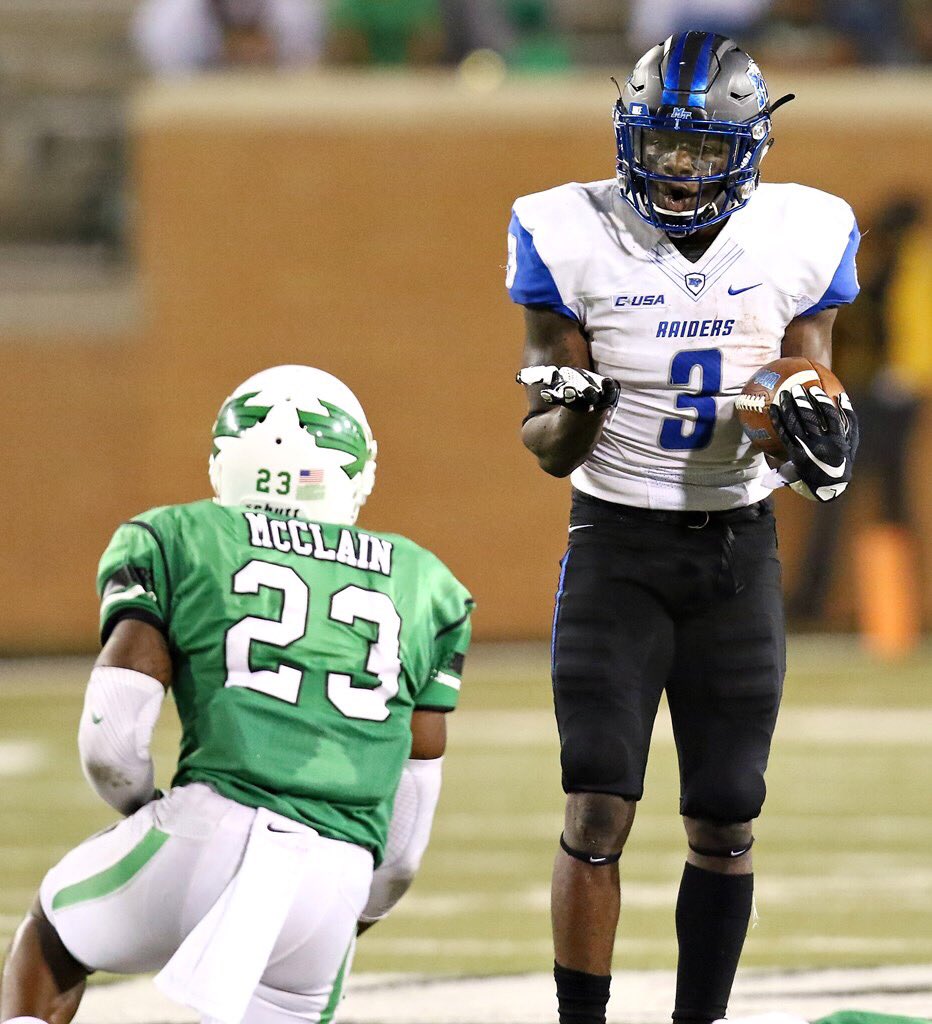 The big question is how does the MTSU defense hold up on the road, against a Hawai'i offense that can attack you either way. Former UH quarterback Nick Rolovich is the head coach, and although he's adapts to his personnel, you know he wants to throw it. Dru Brown is an exciting youngster, who showed flashes of excitement amidst some mistakes, and Marcus Kemp has proven a steady outside receiver. Yet the Blue Raiders held opposing quarterbacks to a 121.32 efficiency rating, so that might not be the way to hit them. The line is solid, and headlined by junior tackle Dejon Allen and senior guard Leo Koloamatangi, and they have opened holes for the running game to the tune of 6.0 yards per carry for Diocemy Saint Juste and 7.0 for Paul Harris. MTSU allowed 198 yards per game and 35 total rushing touchdowns on the year, including 5.6 yards per rush and six scores in their last game against FAU. If Hawai'i can run it, they'll set-up the passing game and stand a great chance at the win.
We'll say MTSU rolls on the ground behind Mathers, and James also has a big day whether toting the rock or catching passes from a suited-up Stockstill. Hawai'i also scores points thanks to some big plays, and this becomes a shoot-out. We were burned by Idaho's instate fervor, and so UH tempts us here, but we'll say 55-40 Blue Raiders despite the long trek and uncertainty at quarterback. We just like that offense a bit too much, and are not sure Hawai'i can stop the run game (as they haven't yet).
The man, the myth, the Stock ladies and gentleman. #HawaiiBowl@CoachStock @MT_FB pic.twitter.com/1lMoQM5s2A

— Aldo Amato (@Aldo_Amato) December 21, 2016