FAM Crowns The UCF Knights 2017 CFB Champions!
The Central Florida Knights Are The 2017 Champions Of College Football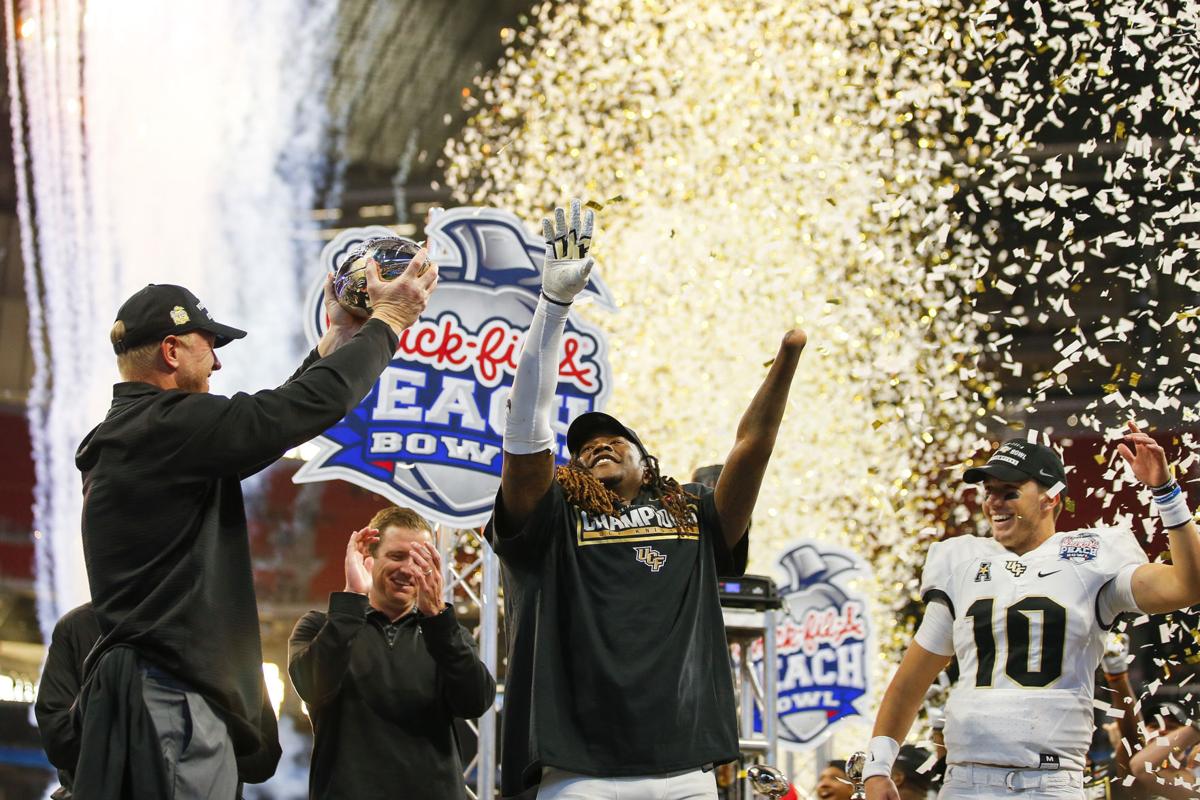 The 2017 National Championship game is a farce. There, we said it. Two one-loss teams play in some Power Five mutual reach-around tournament, while an undefeated team that twice beat Power Five foes — notably the team that defeated both Alabama and Georgia — sits at home for the game that is supposed to give us the best team of the 2017 SEASON. We don't care about conference strength, because the game doesn't care about what conference a team is in. Line up, play football. If you win them all, and nobody else can, then they earned the right to play for the crown.
UCF was not just a THIRTEEN win team; they played seven bowl teams, beating them eight times. Aside from an UNBLEMISHED RECORD, advanced stats point to UCF being among the elite teams this season. Bill Connelly's S&P+ placed the 2017 UCF squad 7th on January 1st, while FootballOutsiders.com's F+ ranking placed UCF 10th before their bowl win over Auburn. This puts them, per objective stats, in the top seven percent of FBS football.
Maybe you don't like advanced stats? They were second nationally in a stat that has come to exemplify GREAT football – Turnover Margin – while turning those into points with regularity thanks to the leading offense in the country in points per game, and the fifth best total offense (20+ spots above Alabama and Georgia).  This is a team that scored over 30 points every time they took the field this year.  That Auburn team that beat Bama and UGA didn't give up 30 points to anyone until UCF.  Take a minute and look into how many other teams scored 30 or more in every game – you won't find one.  Also, if you are still stuck on scheduling, UCF beat twice as many top 25 teams this year as the Crimson Tide.
They have NFL talent in the junior and senior ranks, notably one of the country's most prolific receivers in Tre'Quan Smith, and defensive tackles Tony Guerad and Jamiyus Pittman. Then there is two-time All-AAC  First teamer and Defensive Player of the Year Shaquem Griffin, and his future replacement as superstar linebacker junior Pat Jasinski. Yet this team was also quite young, boasting underclassmen at quarterback, the top two running back spots, and three of the top four receiver spots, basically across the skills that made them one of the nation's top offenses.  Is it a coincidence that the Orlando-based program was ascendant when FSU and UF were sputtering?  We all know the State of Florida produced talent that can stack a roster top to bottom with elite talent, so don't pretend like UCF has second- and third-tier talent.  For the better part of 3 decades the Sunshine State has fed UF, Miami, and FSU the talent to field some of the best teams in the history of the sport, and where did 90s era Nebraska and recent Bama teams turn to mine their major studs (we'll give you a hint, it's also Florida)?  UCF managed to keep some of that talent at home and find diamonds in the rough.
And if great coaching is more your thing ask yourself this: did any of the head coaches of the four playoff participants get job offers this season to a blue blood program like Nebraska? We didn't think so.  And don't act like him going home to Nebraska is a slight, this guy turned down calls from UF, FSU, Oregon, and was smart enough to block all area codes in the State of Tennessee before Thanksgiving.  Solid talent with elite coaching is usually what defines a championship program.  It certainly did for the 2017 Knights.
So while Alabama and Georgia might be playing for a mythical national championship on January 8th, UCF will definitely be celebrating their magical season with a parade in Orlando on that same day.  And before any Alabama fan gets too upset, we know they will be claiming this title no matter what happens on Monday night, so don't even start.
Crown Em!
Follow us on Twitter @firstandmonday and check out message boards full of college football fans.