A Crying Sham: The Story of a Failed Triple Crown Bid
A Crying Sham: The Story of a Failed Triple Crown Bid
 by JDuggernaut
Today, June 9, we will see Justify go for the famed Triple Crown when he runs in the Belmont Stakes in an attempt to achieve horseracing immortality as only 12 horses have done before him. Shall he succeed, he will become one of the most famous animals to have ever lived. If he fails, he will still casually be mentioned anytime another horse wins both the Kentucky Derby and the Preakness. Whether he goes down like Seattle Slew as an undefeated Triple Crown winner or like Smarty Jones and comes up short, he'll be mentioned in the years to come. He might not be a legend like Secretariat, but he'll surely be remembered more than Secretariat's chief rival, Sham.
The fact that Sham is barely remembered by the casual horseracing fan today is a bit of a travesty. By all measures, he put up some truly elite times and would have been remembered as one of the truly dominant thoroughbreds to grace the sport if he hadn't had the misfortune of being born less than two weeks after Secretariat (the greatest racehorse to have ever lived in the eyes of many). "Big Red" looked like the perfect racehorse with his ideal physique and chestnut coat. He shattered track records at Churchill Downs, Pimlico, and Belmont Park. He was even named one of the 50 best athletes of the 20th century by ESPN, an impressive feat given his lack of opposable thumbs. The lasting image of him is pulling away in the Belmont by a huge margin, not another horse in sight as he crossed the finish line. But few remember the ends of the Derby and the Preakness, as Sham was nipping at his heels despite Secretariat breaking the track records in each run.
Sham was born a seal brown foal on April 9, 1970, a mere 10 days after Secretariat. If he had been born in any other year, the great horseracing debate may be "Who would win, Sham or Secretariat?" But the two horses were fated to be rivals, and Sham was destined to reside in the Land of the Forgotten, along with other notable bridesmaids like Peter O'Toole, the Buffalo Bills of the 90s, and Hillary Clinton. The two first met at the Wood Memorial in preparation for the Kentucky Derby on April 21, 1973. Secretariat had won Horse of the Year as a two year old, and Sham was coming in hot, having won the Santa Anita Derby and five out of his last six starts overall. Secretariat was the favorite, but this first meeting would prove to be the first and only time Sham bested Secretariat. Although Secretariat's stablemate Angle Light would set the pace and win by a head, Sham managed to place and beat Secretariat by 4 lengths. Secretariat would still enter the Kentucky Derby as a 3-2 favorite, but Sham had closed the gap and sat at 5:2.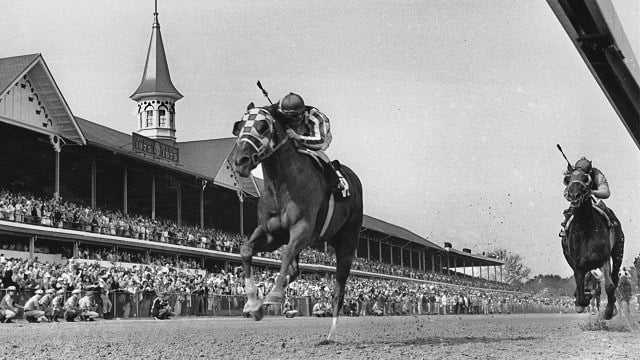 The stage was set for a showdown in front of more than 134,000 people at the 99th Kentucky Derby, as the largest crowd in the history of American horseracing showed up to see these two horses square off. Shecky Green set the pace, and the race got out to a rough start for both Secretariat and Sham. Secretariat started in last place, while Sham banged his head on the gate and lost two teeth. The injury caused him to bump into Navajo, which marred his start. It didn't take long for a bloodied Sham to hit his stride however, as he briefly took the lead a quarter-mile into the race. He would stay near the pace for the remainder of the race, taking the lead over Shecky Green going into the homestretch. Sham had one of the fastest stretch runs in history, running the last quarter in under 24 seconds and pulling away from the pack, but a hard-charging Secretariat came from seemingly out of nowhere and caught him from the outside. Secretariat would break the race record by finishing in 1:59 ⅖. As impressive as his time was though, he only beat Sham by 2½  lengths. Sham perhaps also managed to break the previous track record with an estimated time of 1:59 ⅘ and finished a full 8 lengths ahead of the show horse, Our Native. It's possible had Sham not suffered the injury that marred his start, he might have been in position to hold Secretariat off, but instead it was Secretariat who took the Roses and the record.
Another record crowd turned out to see the rematch between Secretariat and Sham at the Preakness Stakes, as over 60,000 people packed into Pimlico to see round two. All eyes were on Secretariat and Sham, as Secretariat was the favorite, and Sham was deemed as the only possible threat. The race played out pretty similarly to the first go around. Secretariat started last, and Sham ran into another horse, this time Deadly Dream. The big difference was how much earlier Secretariat made his move, this time at the first turn. Sham gave chase and put up a valiant effort, pulling away from the pack once again and getting within striking distance of Secretariat, but in the end Sham finished 2 ½ lengths behind the record-setting winner and 8 lengths ahead of the third place Our Native once again. No three horses had ever finished in the same win-place-show order in the Kentucky Derby and the Preakness Stakes before, let alone by the same distances. Secretariat was in a position to win a Triple Crown, but he would have to beat Sham one more time to do it.
Secretariat entered the Belmont Stakes as a heavy favorite, but there was still some school of thought that could see a path to victory for Sham. He had run very strong, near-record times in the first two legs of the Triple Crown. If Secretariat had an off day or if he got caught in some traffic, it was reasonable to believe Sham could spoil his bid at greatness. Secretariat would start on the inside, with Sham on the outside. My Gallant would jump out to an ever-so-brief lead before he and the rest of the pack were quickly discarded by Secretariat and Sham. The two pulled far ahead of the pack, the lead often exchanging hands between the two. Sham had pulled ahead about three-quarters of a mile in, until Secretariat bolted ahead of him. The pair were possibly a dozen lengths ahead of the pack when Sham began to lose steam. As Secretariat raced to a dominating and record-breaking 31 length win in 2:24, Sham fell to 5th and last place. Perhaps if there had been more traffic for Secretariat to deal with, Sham could have conserved energy and given him a race down the stretch. The strategy of keeping up with Secretariat out of the gate on a fast, wide-open track proved to be too much, even for a horse like Sham. One of the all-time great horses had come away empty, just because he happened to go against the greatest horse of all-time.
Sham would never race again after the Belmont, officially retiring in July later in 1973 due to the cannonbone. He would live out the rest of his days as a stud horse, dying in 1993. He would finish so close to being a legend, but always a day late and a dollar short. It's not hard to imagine a world where Sham was hailed as the great horse of the 20th century. He was that good. Sure, if he lived today there would probably be staunchly pro- and anti-Sham groups on Twitter. If you liked him, you'd say Secretariat got better post positions, or that injuries hindered Sham. If you didn't like him, you say he was a choke artist, a quitter who pulled up lame to excuse his inability to beat a true great. Of course, Sham wouldn't care, because much like lions, horses don't care about the opinions of sheep, but he could be a polarizing figure to today's society. Regardless of whether they're mentioning names like Affirmed, American Pharaoh, and Sir Barton, or if they talk about Big Brown, Spectacular Bid, and I'll Have Another after Justify's Belmont finish, think about how Sham should, by any objective measure, be one of the names discussed among the greats.
Follow us on Facebook and Twitter. And check out our free message boards for witty banter with like minded individuals.